2021-2023 Ford Bronco Exhaust Systems
Now Available!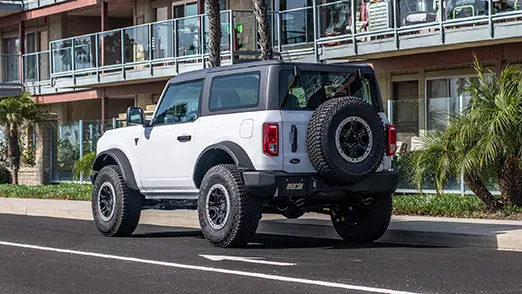 The Borla® team is thrilled about the return of the Ford Bronco for the 2021 model year and we are excited to start offering premium exhaust system options for the new Ford Bronco owners. Exhaust development for the Ford Bronco is underway and the R&D team is working hard to engineer these systems.
We will be offering engine-specific exhaust systems for the base 2.3L EcoBoost and the optional 2.7L EcoBoost for both the 2-Door and 4-Door models. Our Axle-Back systems will be available in our Touring, S-Type, and ATAK sound levels. These systems feature dual 4" tips with chrome or ceramic black finish. For those who plan to take their Bronco off-road, we recommend our high-clearance Climber Cat-Backs. They will be available in Borla's Touring and S-Type sound levels. Regardless of the system you choose, you can rest assured that Borla has developed these exhaust systems with performance and sound in mind.
For a comfortable driving experience, our systems will have a No-Drone guarantee so you can have an aggressive exhaust without any cabin resonance. They're also constructed using T-304 stainless steel for increased durability and are backed by our Million Mile Warranty. Choose how you want to be heard, bolt on a BORLA®.
System Features
Engine-Specific Exhaust systems (2.3L & 2.7L)
Axle-Back Exhaust Systems
Dual 4" Tips in Chrome or Ceramic Black Finish
Touring, S-Type, and ATAK Sound Levels
No-Drone
T-304 Stainless Steel Construction
Million Mile Warranty
Coming Soon
High-Clearance Climber Cat-Back Systems (2.3L & 2.7L)
Each BORLA® Exhaust System is built from premium T304-series stainless steel to give you the absolute best in performance and durability. We strive to provide you with the best quality products and stand behind our systems with a Million-Mile Warranty. Feel free to contact us with any questions...