2021 Dodge Durango SRT Hellcat Exhaust Systems
Now Available!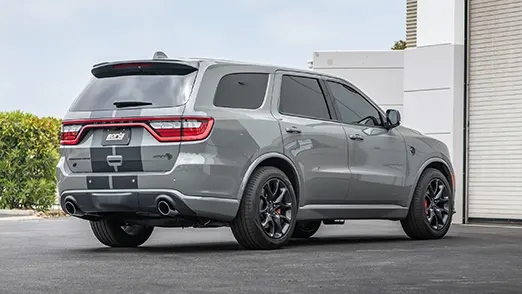 When Dodge decided to put the Supercharged 6.2L HEMI engine in the Durango, we knew we needed to offer an exhaust system for it. BORLA® R&D has been working hard developing exhaust systems for the Dodge Durango SRT Hellcat. The Cat-Back systems will be available in our popular S-Type and ATAK sound levels. As you'd expect from BORLA®, both systems will provide a No-Drone driving experience. The most powerful SUV deserves the best exhaust, bolt on a BORLA®.
System Features:
Cat-Back Exhaust System
S-Type and ATAK Sound Levels
No-Drone
System Diameter: Dual 3"
4.5" Chrome or Black Chrome Tips
T-304 Stainless Steel Construction
Million Mile Warranty
Each BORLA® Exhaust System is built from premium T304-series stainless steel to give you the absolute best in performance and durability. We strive to provide you with the best quality products and stand behind our systems with a Million-Mile Warranty. Feel free to contact us with any questions...
Phone: 1-877-462-6752 or Email: [email protected].