Chevrolet Camaro V6 Exhaust Systems
VIEW PRODUCTS
Sometimes it feels like the bigger engines in Camaros get all the attention, but at Borla, we realized early on that a modern Camaro with V6 power can be a serious performance machine.
When Chevrolet reintroduced the Camaro to the world after a ten-year hiatus in 2010, the automotive world couldn't wait to get their hands on the wheel of this dramatically designed interpretation of the original Camaro. Chevy offered the re-launched Camaro with a 3.6L V6 that pumped out a stout 304 horsepower - more than enough for some serious fun. The 2016 re-design amped up the power to a stonking 335 horsepower from a revised 3.6L V6 for even more tail-out antics and smoky burnouts.
This kind of power turns the Camaro V6 into a mighty performer, and when properly equipped with a Borla Stainless Steel Exhaust, provides all the muscle car noises you expect for a Camaro.
Stainless Steel Exhaust Systems For The Camaro V6
Whether you're running a Gen 5 (2010-2015) or Gen 6 Camaro (2016-2022), the exhaust tuning experts at Borla have developed a series of exhaust systems that are designed to produce a unique, head-turning snarl from that big 3.6L V6. Our T-304 stainless exhaust systems give you the sound you want when planting your foot but avoid annoying drones on the highway. We gave the Camaro V6 the R&D attention it deserves, and trust us, the sound just rips!
Choose Your Sound Level
Borla offers Camaro V6 exhaust systems for 5th Generation (2010-2015) and 6th Generation (2016-2022) models. Depending on your year, Borla Camaro V6 exhaust systems are offered up with two different sound profiles for that ultimate Camaro V6 bark and snarl:
S-Type: (Available on 5th Gen and 6th Gen models) Ripping, racing howl that has a deep tone and makes the 3.6L V6 sound like it's straight out of an exotic European sports car instead of an American muscle car. • Does NOT fit 2013 RS models with Quad Tips (Dual Mode Exhaust).
ATAK: (Available exclusively on 6th Gen Camaro V6 model) Snaps, burbles, and cracks add more character to the Camaro V6 sound experience, along with a chainsaw staccato that builds to a fury as the engine races to its 7000 RPM redline.
Depending on your model, there are two specific types of Borla Camaro V6 exhaust systems: Cat-Back™ and Axle-Back. Let's dive into the differences.
Cat-Back™ and Axle-Back Exhaust Systems For Camaro V6
Depending on your year, Borla offers both Axle-Back and iconic Cat-Back™ exhaust systems for Camaro V6 Models.
At Borla, we know a thing or two about exhaust systems because we invented the concept of the Cat-Back™ system over 43 years ago. These complete systems replace all exhaust system components from the catalytic converter to the rear of the V6 Camaro. This configuration retains the catalytic converters and keeps everything street-legal.
On the other hand, Axle-Back systems don't replace all the exhaust components from the catalytic converter forward. Instead, Borla stainless steel axle-back exhaust systems replace the mufflers, some rear piping, and of course the tips themselves. You still get all the Borla sound you want but at a more attractive price.
5th generation Camaros are offered in both Borla's Cat-Back™ and Axle-Back configurations. 6th generation V6 Camaros are offered exclusively with an Axle-Back configuration. Make no mistake, our Axle-Back systems still let all the character of the Camaro V6 shine but do so at a more affordable price point.
Borla offers both dual split and single split exhaust tips for your Camaro V6 in classic polished and ceramic black for that sinister look.
The Borla Difference
We've tirelessly worked for over 40 years to produce the finest Camaro V6 exhaust systems on the market. Our engineering team works with the unique character of the advanced, high-revving 3.6L Camaro V6 to produce a sound that is instantly recognizable. We build every system from the highest quality T-304 stainless steel, with ultra-smooth mandrel bends that ensures optimum flow and that Borla sound.
You may want that big V6 to sing when you stand on it, but maybe not so much on a long highway drive. To help eliminate this potentially annoying situation, Borla offers our exclusive No Drone™ technology to eliminate annoying highway drones, while still giving you the sound you've come to expect from Borla when you slam that accelerator pedal.
Dual-Mode NPP Valves For Camaro V6 Exhaust
6th generation Camaro V6 exhausts come from the factory with an optional dual-mode exhaust setup. Internally coded as "NPP" from Chevrolet, these butterfly valves operate via electronic actuators when called upon after the vehicle is placed into Sport mode. Once open, the valves offer a "straight-through" path for exhaust gasses which results in some magnificent sounds.
From the factory, the factory dual-mode Camaro V6 exhaust system sounds pretty good, but pretty good is not what Borla is all about. We've designed our Axle-Back systems to work in sync with Camaro V6 models that offer the factory's optional NPP valves for the ultimate V6 Camaro sound experience.
If you don't have the NPP option, no worries. We offer Axle-Back systems without the NPP option.
The Leaders In Performance Exhaust
Since 1978, Borla Performance Industries has been the leader in stainless steel performance exhaust technology.
Borla performs all design and research for our premium stainless steel exhaust systems in Oxnard, California. Every single system we develop in-house is built to work with the unique engine harmonics and design of everything from European sports cars to sport-compact legends. This bespoke approach to building exhaust systems means our systems always "sound like heaven and go like hell."
We're proud to offer a true "Made In The USA" product that is not only sold around the world but has become the global standard for performance exhaust systems. Once a design is completed in California, all specifications are sent to our state-of-the-art facility in Johnson City, Tennessee, for production and shipping to locations all over the globe. This sprawling facility employs over 300 men and women and has become a shining example of community involvement.
Pioneering and proprietary features like Polyphonic and SwitchFire exhaust technologies consistently put Borla on the cutting edge of the performance exhaust industry and squarely in the hearts of true enthusiasts the world over. Our street systems are offered with an industry-leading Million-Mile Warranty that backs up our claims with real service and support.
Explore borla.com to find your favorite sound and system design for your Chevrolet Camaro V6!
Each BORLA® Exhaust System is built from premium T304-series stainless steel to give you the absolute best in performance and durability. We strive to provide you with the best quality products and stand behind our systems with a Million-Mile Warranty. Feel free to contact us with any questions...

Phone: 1-877-462-6752 or Email: [email protected].
Camaro - V6 (1)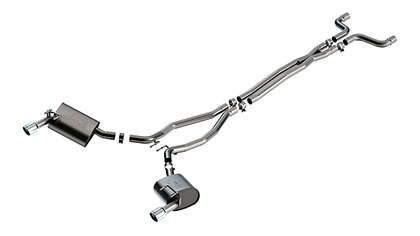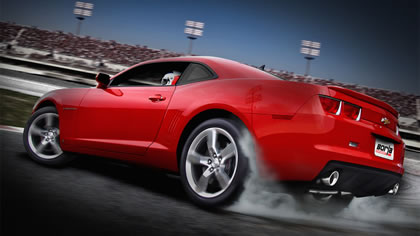 Engines: 3.6L
Body: Coupe, Convertible
Drive: RWD
Pipe Diameter: 2.25"" Tip Size: 3.5" Exit: Single Split Rear Exit
Select