2022-2023 Volkswagen GTI Exhaust Systems
ECE-R59 Euro Approved System = Now Avalilable!
2020-2022 Volkswagen Golf GTI MK8 2.0L 4 Cyl. With Otto Particulate Filter (OPF) Dual Shift Gear Box Dual Clutch Automatic (DSG)/ Manual Transmission.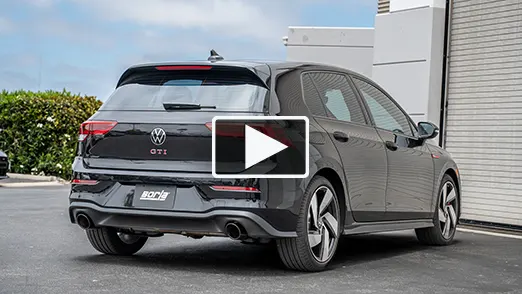 The BORLA® R&D Team is excited to show you what they've developed for the upcoming 2022 Volkswagen GTI (MK8). Our Cat-Back system is specifically tuned for the 2.0L engine found in the MK8 Golf GTI. The S-Type sound level delivers an improved exhaust note and a sporty sound that is fitting for Volkwagen's turbocharged hatchback. In order to maintain a comfortable driving experience, BORLA® guarantees their system to be drone-free. Give your GTI the sound to match its performance, bolt on a BORLA®.
System Features:
Cat-Back Exhaust System
S-Type Sound Level
System Diameter: 3" to dual 2.25"
Dual 4" Dual Angle-Cut Tips available in Chrome, Black Chrome, and Stainless Brushed Finishes
No Drone
T-304 Stainless Steel
Bolt-On Installation
Million-Mile Warranty