Ford Mustang Shelby GT350 Exhaust Systems
BORLA® FORD MUSTANG SHELBY GT350 APPLICATIONS
The Borla Cat-Back Exhaust System for the 2015-2019 Ford Mustang Shelby GT350 features our patented ATAK® Technology that is based on specifically-tuned attributes of the internal muffler cores, which are calibrated on a vehicle-by-vehicle basis to deliver the most desirable sound. Our system picked up 18 hp at the wheels, is 13.4 lbs lighter than the stock system, features valves for the Selectable Driving Mode, and utilizes the factory exhaust tips/bezels. In addition, our products are made from T-304 stainless steel, are very durable, are backed by our Million Mile Warranty, and are proudly made in the USA.
Click any system below for more information.
Mustang - Shelby GT350 (1)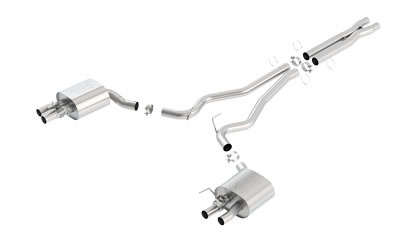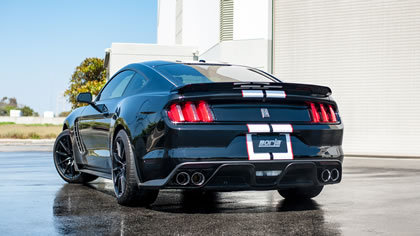 Engines: 5.2L Body: Coupe Drive: RWD Has Valves
Pipe Diameter: 2.75" into muffer dual 2.5" out"
Exit: Dual Split Rear Exit
Fits models with Selectable Driving Mode
BORLA® system contains valves
System does NOT include Tips, use Factory Bezel/ Valance
Select