Leading the Heard Since 1978
The Borla Story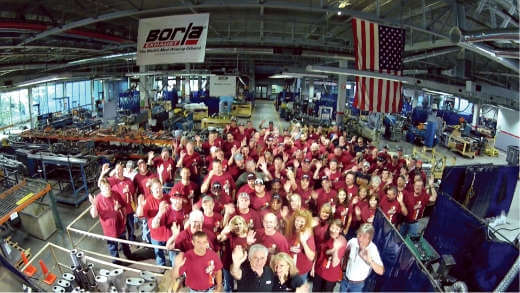 Over 300 Borla employees put their hearts and minds into manufacturing world-leading exhaust systems that deliver performance, excitement and unrivaled sound.
Borla Performance Industries is the pioneer and leader in the design and manufacture of stainless steel performance exhaust. The number "78" on our race team vehicles pays homage to the year 1978, when we began by building exhaust systems for Rolls-Royce and Ferrari concours classics. Since that day over four decades ago, we have evolved into the premier exhaust brand of today's most popular cars and trucks.
Borla is committed to providing world-class exhaust products which surpass the expectations of customers like you. To that end, our facility is complete with a state-of-the-art test and development center where we continually fine-tune manufacturing precision and standards. We have trailblazed a variety of improvements in exhaust design, leading to many US patents for innovative technology and numerous "Best New Product" industry awards.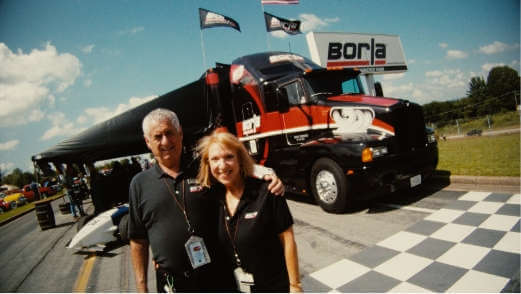 Founders Alex and Alyse Borla at our 100-acre Tennessee location, where skilled local workers build a true "Made in the USA" product in our state-of-the-art facility.
Alex Borla with his 1938 SS100 fixed head coupe Jaguar, from the Borla Archives.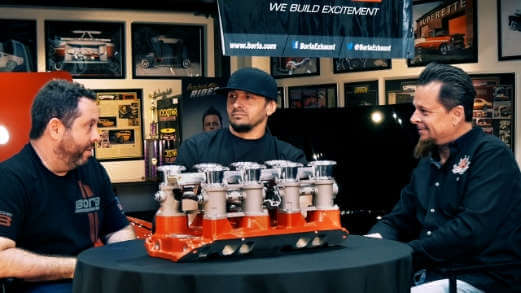 David Borla, VP of Sales & Marketing, talks with Dave Kindig and "Kevdogg" Schiele about the Borla Induction product line.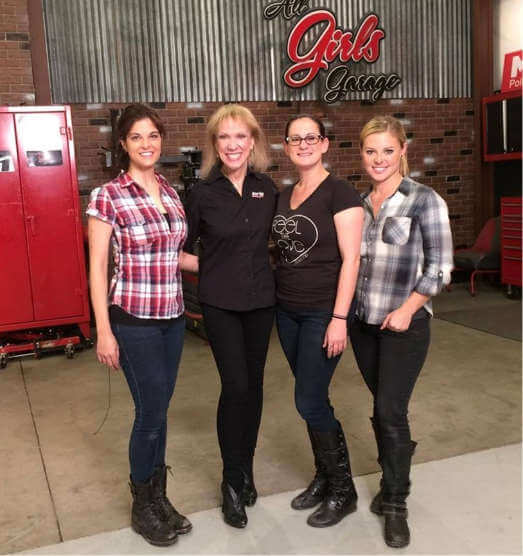 Alyse Borla poses with the hosts of All Girls Garage after filming an episode featuring a Borla exhaust installation.
Unrivaled Sound and Proven Durability
Unlike any other exhaust, Borla systems are designed from scratch on a vehicle-by-vehicle basis. Every car and truck has unique mechanical and acoustical properties, all taken into account as we spend countless hours optimizing muffler body shapes, internal core configurations, flow dynamics and sound. What's more, Borla offers you a choice of three exclusive sound technologies — ATAK®, S-Type and Touring — to suit your taste in sound volume and character.
It's no wonder that after subjecting a variety of exhaust brands to their ultra-rigorous shaker simulations, heat trials, leak tests and more, top OE vehicle makers like GM, Ford, Toyota and others choose Borla to supply many of their factory-installed aftermarket exhaust systems.
The same goes for the world's top engine builders and race teams, who insist on Borla for maximum power and durability. The strength of our welds, precision fit of the slip joints, smooth high-flow mandrel bends and austenitic stainless steel construction (superior to 409 or aluminized steel), all ensure top performance through the most grueling conditions.
Performance & Innovation that Runs Deep
On top of numerous other patented technologies, our latest innovations include Polyphonic Harmonizers that use the same dynamics as organ pipes to deliver tuned harmonious sound, and ultra high-flow SwitchFire™ X-Pipes that are so revolutionary they can actually be combined with the stock system to create an entirely new level of affordable sound and performance.
In addition to our Cat-Back™ and Axle-Back systems, Borla also offers our exclusive Pro XS mufflers, along with tubing, universal exhaust tips, exhaust polish, our winning XR-1® Raceline mufflers for serious racers, and other components that enable virtually anyone to enjoy the technology, quality and durability of Borla.
Restoring a classic? Our CrateMuffler™ line features specialty mufflers that are tuned for specific crate engines, available with multiple sound choices. And speaking of classics, Borla Induction offers high-performance injection kits and accessories ranging from inlet manifolds to all-out racing injection systems for Chevy small block, LS1, LS2, LS7, Coyote, Ford small block, FE, 460, Hemi 6.1 and front-wheel-drive tuner cars.
Made in the USA Strong
Borla was honored to donate time and services during the COVID-19 pandemic outbreak. A portion of our East Tennessee manufacturing facility was repurposed to CNC-cut face shields for the local healthcare providers. Our management team immediately created a company health policy and protocol in accordance with CDC guidelines to protect our employees. Senator Rusty Crowe was impressed with this procedure and forwarded it to Governor Bill Lee to review as an example of what businesses can and should do.
We are proud to deliver a genuine "Made in the USA" product sold around the world, including select systems homologated for specific regions. Everywhere you look, Borla's spirit of innovation screams with the same high-volume clarity as our unrivaled exhaust systems.
On weekends, the same Borla employees who built your exhaust or helped you with sales or technical support can be found competing at tracks, drag strips, off-road events and car shows. We are a company of motorheads, and it shows in our products, customer service, industry-leading Million Mile Warranty, and culture. We build far more than just exhaust products. We build excitement.