2003-2009 Nissan 350Z Exhaust Systems
As Featured on Donut Media
New Systems Coming Soon!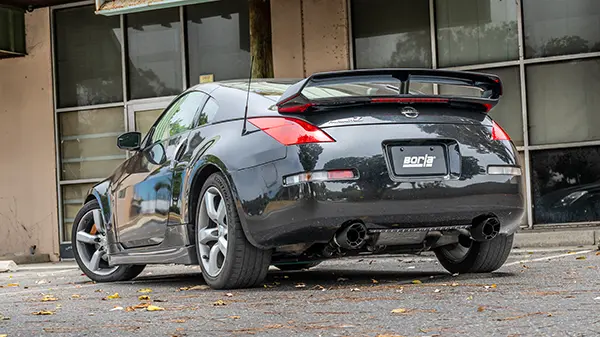 The Nissan 350Z is on the fast track to becoming a modern classic. Although it was produced back in 2003 to 2008, it is still one of the most popular Japanese sports cars today. That led to the Borla® R&D team revisiting and redesigning our split rear system and also developing a new single exit system in the process.
The split rear system features a true dual exhaust design with dual 2.25" pipe diameter. It is available in our S-Type II sound level. For those familiar with our previous S-Type offering, the S-Type II improves on the older system for a more aggressive sound without any drone. The 4.5" tips are available in chrome, black chrome, and carbon fiber.
Our single system is offered in our ATAK sound level and features a single 3" pipe diameter that exits on the driver's side. While the ATAK is the more aggressive option, you can still expect a drone-free driving experience. This exhaust is equipped with Borla's patented Polyphonic Harmonizer technology which extends out of the muffler and is visible inside the tip. This unique design was originally developed on Ken Block's Audi Sport Quattro. Give your 350Z the sound it deserves, bolt on a Borla®.
System Features:
Split Rear
Cat-Back Exhaust System
S-Type II Sound Level
No Drone
Dual 2.25" Pipe Diameter
4.5" Round Tips in Chrome, Black Chrome, or Carbon Fiber
T-304 Stainless Steel Construction
Million Mile Warranty
Single Exit
Bolts on to stock Y-Pipe
ATAK Sound Level
No Drone
Single 3" Pipe Diameter w/ driver's side exit
4.5" laser cut tip with Borla logo cut out
Extended polyphonic harmonizer technology which is visible inside of the tip (first seen on Ken Block's Audi Sport Quattro)
T-304 Stainless Steel Construction
Million Mile Warranty
Each Borla® Exhaust System is built from premium T-304 series stainless steel to give you the absolute best in performance and durability.
We strive to provide you with the best quality products and stand behind our systems with a Million-Mile Warranty. Feel free to contact us with any questions... Phone: 1-877-462-6752 or Email: [email protected].