2023 Nissan Z Exhaust Systems
Coming Soon!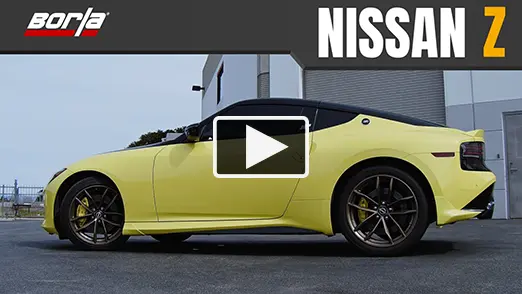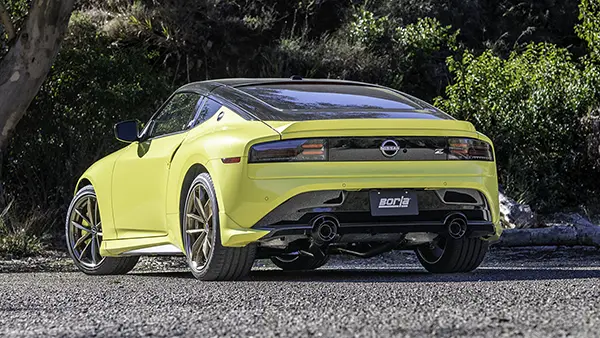 The team here at Borla® is thrilled to showcase our premium exhaust systems for the seventh generation Nissan Z. Our Cat-Back systems are available in two different sound levels: S-Type and ATAK. For those looking for a sporty sound with a deeper tone, we recommend our S-Type. For the owner who is looking for an aggressive and head-turning sound, we recommend our ATAK®. These exhaust systems have been engineered specifically for the Nissan Z and tuned to bring out the best sounds from the 3.0L twin-turbo V6 engine. They feature dual 2.5" pipe diameter and Borla's patented Polyphonic Harmonizer technology. The 4.5" exhaust tips are available in chrome or carbon fiber. Choose how you want to be heard, bolt on a Borla®.
System Features:
Cat-Back Exhaust System
S-Type & ATAK Sound Level
No Drone
Polyphonic Harmonizer
Dual 2.5" Pipe Diameter
Dual 4.5" Chrome or Carbon Fiber Black Anodized Tips
T-304 Stainless Steel
Million-Mile Warranty
Each BORLA® Exhaust System is built from premium T-304 series stainless steel to give you the absolute best in performance and durability.
We strive to provide you with the best quality products and stand behind our systems with a Million-Mile Warranty. Feel free to contact us with any questions... Phone: 1-877-462-6752 or Email: [email protected].