2015-2023 Lexus RC F Exhaust Systems
Coming Soon!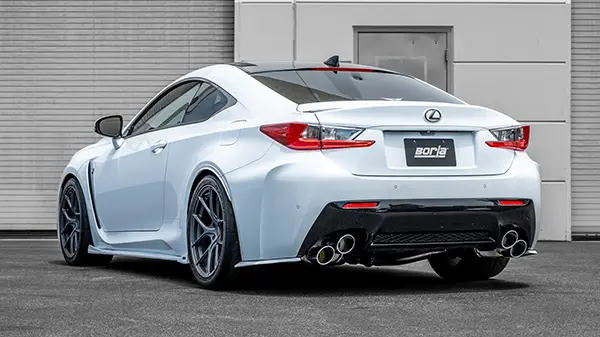 Engineered and tuned specifically for the Lexus RC F, our exhaust system will bring out the sweet sounds and notes of the 5.0L engine.
Our Axle-Back features quad 4" round tips and is available in a Chrome and Black Chrome finish. Installation is straightforward as it bolts right up to the factory flange. For those who want a bit more volume, we'll be offering an optional midpipe that replaces the stock resonators. Due to the single-piece design of the factory exhaust system, our optional mid-pipe will require cutting and welding.
Borla's S-Type sound level provides a deep rumble that lets the V8 engine sing. As you've come to expect from Borla®, we guarantee a drone-free driving experience so you can enjoy your exhaust sound without any resonance inside the cabin.
System Features:
Axle-Back Exhaust System
Optional Midpipe Resonator Delete
S-Type Sound Level
No Drone
Dual 2.5" Pipe Diameter
Staggered tips in similar configuration to OE
Quad 4" Round Tips in Chrome or Black Chrome
T-304 Stainless Steel Construction
Million Mile Warranty
Each BORLA® Exhaust System is built from premium T-304 series stainless steel to give you the absolute best in performance and durability.
We strive to provide you with the best quality products and stand behind our systems with a Million-Mile Warranty. Feel free to contact us with any questions... Phone: 1-877-462-6752 or Email: [email protected].