Part # 1014052
2020-2022 Volkswagen Golf GTI MK8 2.0L 4 Cyl. With Otto Particulate Filter (OPF) Dual Shift Gear Box Dual Clutch Automatic (DSG)/ Manual Transmission.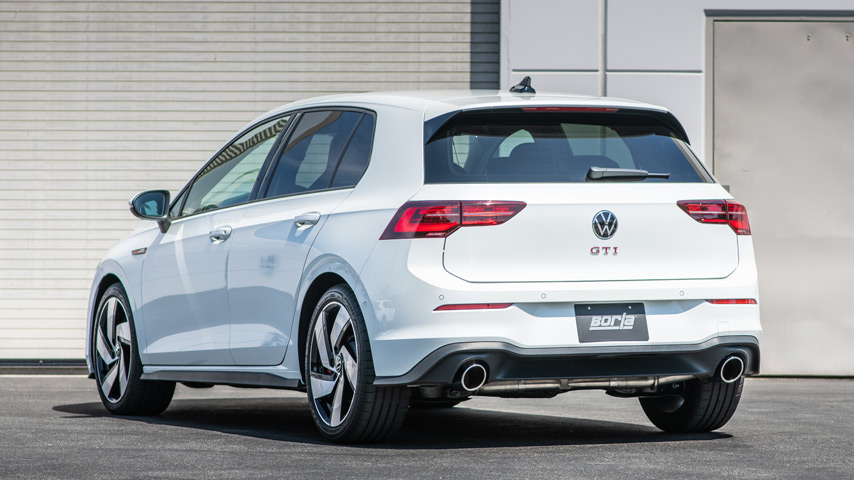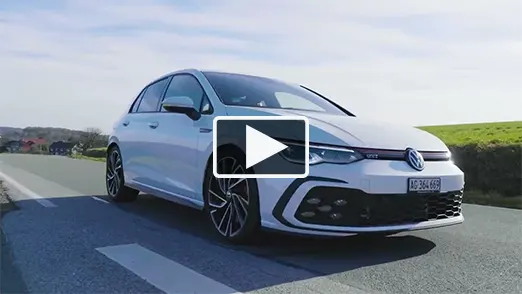 System Features:
Cat-Back Exhaust System
System Diameter: 3" to dual 2.25"
Dual 4" Dual Angle-Cut Tips available in Chrome Finish
No Drone
T-304 Stainless Steel
Bolt-On Installation
3-Year International Warranty

With an increasing demand for street legal exhaust systems in Europe, Borla is making sustained efforts to meet the strict noise regulations enforced here by designing and developing applications for an increasing range of vehicles with EC/ECE type approval. These systems are complying with European Community/Economic Commission for Europe rules for motor vehicles, vehicle systems and components.
Made in the USA Strong™
Located in Johnson City, Tennessee, next to the storied Blue Ridge Mountains, is the 100-acre Borla manufacturing complex. There your exhaust is cut from raw stainless steel, shaped, assembled and welded by metal fabricators who are among the most talented in the world. The Borla family is a quintessential example of American ingenuity and quality. We are Made in the USA Strong™.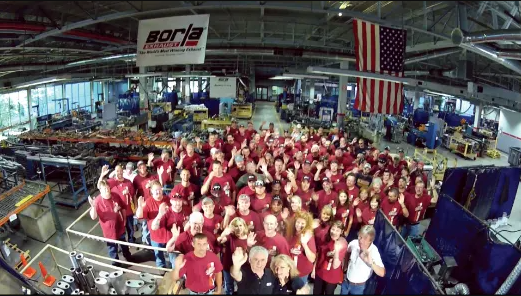 Race-proven durability & performance, with 3-Year International Warranty.
Since many of the exhausts on OE vehicles are made by Borla, our systems — unlike most exhaust brands — are subjected to ultra-rigorous testing regimens by GM, Ford, Toyota and others. The durability of our welds, the placement and design of our mounting hangers, the precision fit of the slip joints, all are the result of relentless OE shaker simulations, heat trials, leak tests and more. Lessons learned from these tests — and our off-road racing experience — are applied to all Borla systems.
Borla Cat-Back & Axle-Back exhaust systems feature patented straight-through and multi-core technology to unleash hidden horsepower. Increased exhaust velocity adds power, driving excitement, fuel economy, and the distinctive BORLA® Sound of Power respected by motoring enthusiasts everywhere.
Each system is built from premium T-304 austenitic stainless steel, superior to T-400 series knockoffs (such as 409), to give you the absolute best in performance and durability. Ultra-smooth mandrel bends ensure maximum flow & power, and precision computer-controlled CNC manufacturing ensures an accurate fit.
Borla stands behind every system with a 3-Year International Warranty. Just what you would expect from the world's most experienced (and most winning) exhaust brand.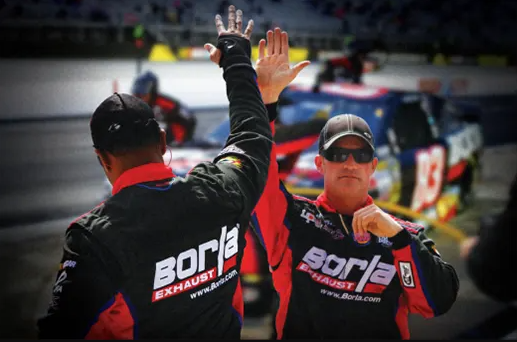 SPORTWAGENWERK (GERMANY)
Weidenweg 4
Markranstädt Sachsen D-04420
Contact: Axel Schirmer
Phone: +49 34444 - 690881 +49 171 - 3241836
Email: [email protected]
VELOCITY AUTOMOTIVE GROUP (GERMANY)
Neubruchstraße 4
Unterföhring bei München Bayern D-85774
Contact: Tobias Zacher
Phone: +49 89 189 3126-0
Email: [email protected]
Website: www.velocity-group.de
ASP EBERLE (GERMANY)
Dieselstrasse 4
Möglingen Baden-Württemberg D-71696
Contact: Joachim Eberle
Phone: +49 7141 491210 +49 7141 4912155
Email: [email protected]
Website: shop.asp-eberle.com
ORZ GMBH & CO.KG (GERMANY)
Stolzhofstraße 14
München Bayern D-81825
Contact: Jens Hampe
Phone: +49 89 36109670
Email [email protected]
Website: www.meinjeep.de
AEC EUROPE GMBH (GERMANY)
Landsberger Str. 98
München Bayern D-80339
Contact: Adrian Rüger
Phone: +49 89 21546250
Email: [email protected]
Website: aeceurope.com
KTS AMERICAN PARTS GMBH (GERMANY)
Nordring 10
Bönningstedt Schleswig-Holstein D-25474
Contact:
Phone: +49 40 55695940
Email [email protected]
Website: www.ktsamericanparts.de
AUTO RACING SERVICES (FRANCE)
45 Rue Du Fort Manoir
Le Mesnil-Saint-Denis Île-de-France 78320
Contact: Jeremy Colombelle
Phone: +33-951 564 824
Email: [email protected]
Website: www.ars-shop.fr
MADNESS US (FRANCE)
9/11 Rue Du Poulgot
Batz Sur Mer Loire-Atlantique 44 740
Contact: Nicolas Martin
Phone: +33 (0) 6 99 42 60 59
Email: [email protected]
Website: www.madness-us-cars.com
KC MOTORS - AMERICAN PERFORMANCE (FRANCE)
06 Avenue Jean Jaurès
Chambéry Auvergne-Rhône-​Alpes 73000
Contact: Alban et Cindy
Phone: +33.(0)6.59.02.55.11
Email: [email protected]
Website: www.kc-motors.fr
NEMESIS UK (UK)
74 Basepoint Business Centre
Bromsgrove Worcestershire B60 3ET
Contact: Guy Tomlinson
Phone: +44 012.12.882.561
Email: [email protected]
Website: nemesisuk.com
USAUTOMOTIVE LTD (UK)
19 St Martins Way
Bedford Bedfordshire MK42 0LF
Contact: Steve Trice
Phone: +44 012.34.273.155 +44 012.34.273.064
Email: [email protected]
Website: www.usautomotive.co.uk