2021-2023 Ford F-150 Tremor Exhaust Systems
Now Available!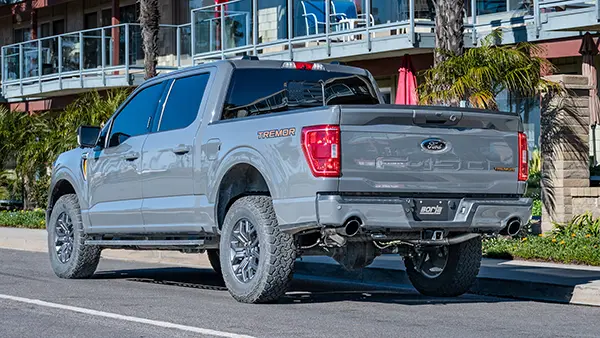 The team here at Borla® is excited to showcase their exhaust for the F-150 Tremor 3.5L EcoBoost. Our Mid Section exhaust systems have been designed for compatibility with the OE tailpipes as well as our optional aftermarket tailpipes. The Borla® tailpipes feature 4.5" tips in chrome, black chrome, and carbon fiber. Available in two sound levels, you can choose between Borla's classic S-Type and signature ATAK sound. In typical Borla® fashion, you can expect a drone-free driving experience with either system. Bolt-on power and sound, bolt on a Borla®.
System Features:
Mid Section Exhaust System
S-Type and ATAK Sound Levels
3" to dual 3" Pipe Diameter
No Drone
Compatible with OE tailpipes
Optional 60640/60640BC/60640CFBA Borla® tailpipes with 4.5" Chrome, Black Chrome, and Carbon Fiber Tips
T-304 Stainless Steel Construction
Million Mile Warranty
Each BORLA® Exhaust System is built from premium T-304 series stainless steel to give you the absolute best in performance and durability.
We strive to provide you with the best quality products and stand behind our systems with a Million-Mile Warranty. Feel free to contact us with any questions... Phone: 1-877-462-6752 or Email: [email protected].