2023 Ford F-150 Raptor R Exhaust Systems
Coming Soon!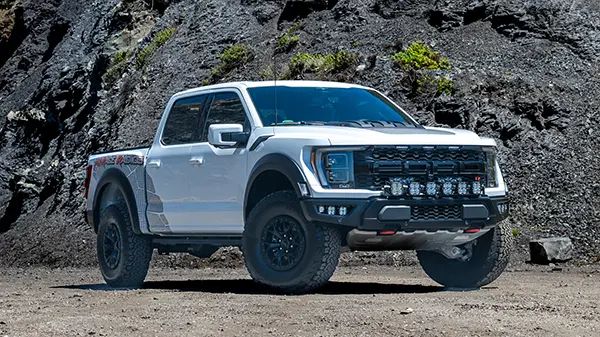 NOTIFY ME WHEN AVAILABLE
When Ford debuted the F-150 Raptor R, we knew we had to get our hands on the most powerful F-150 Raptor ever produced. The R&D team has been hard at work and we can't wait to show you what we've developed.
Our Mid Section exhaust systems have been meticulously engineered for performance and sound on the 5.2L supercharged V8 engine in the Raptor R. You will have the option between our two signature sound levels: S-Type and ATAK. Both feature our patented SwitchFire X-Pipe and Polyphonic Harmonizer technology. The systems also include Active Exhaust valves that allow you to switch between the different exhaust modes similar to the stock system. As you've come expect from Borla, we guarantee a comfortable, No Drone driving experience.
For those who want a full Borla system, we offer optional tailpipes with 4.5" Black Chrome or Carbon Fiber Tips. When paired with our Mid Section, the Borla tailpipes produce a slightly more aggressive sound as it eliminates the factory resonators in the stock tailpipes. Bolt-on the best, bolt on a Borla.
Mid Section Exhaust System Features:
Mid Section Exhaust System
S-Type & ATAK Sound Levels
3" Pipe Diameter
SwitchFire X-Pipe
Polyphonic Harmonizers
No Drone
Includes Active Exhaust Valves
T-304 Stainless Steel Construction
Million Mile Warranty
Optional Tailpipes Features:
Optional Tailpipes
Eliminates Stock Tailpipe Resonators
3" Pipe Diameter
4.5" Black Chrome or Carbon Fiber Tips
Includes Heatshields
Each BORLA® Exhaust System is built from premium T-304 series stainless steel to give you the absolute best in performance and durability.
We strive to provide you with the best quality products and stand behind our systems with a Million-Mile Warranty. Feel free to contact us with any questions... Phone: 1-877-462-6752 or Email: [email protected].